EDIT MAIN
CSEF BOARD OF DIRECTORS
2019-2020
Office and Name
President, Julie Gillispie
Vice President, Steve Livingston
Secretary, Stacy Harbin
Treasurer, Jared Winters
Member, Kim Konermann
Member, Brent Easton
Member, Jaysen Clements
Member, Jeffery Anderson
Mailing Address: Box 628, Cache Ok 73527
Price of Wall of Fame Space. $100.00
Price of Tree of Knowledge Leaf. $100.00
Teacher Grants $1,000 (3 grants a year) and the students received scholarships from $500.00-$5,000 per year.
Contact Information
Chad Hance - chad.hance@cacheps.org
Karol Haney - kmhfromc@gmail.com
Cache Schools Education Foundation
102 E H Avenue
Cache,OK 73527
Phone:580-429-3266
E-mail: csef@cacheps.org
www.cacheps.org
---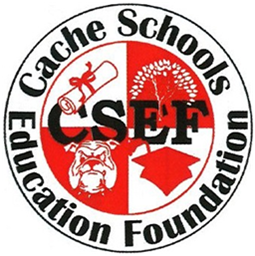 Cache Schools Education Foundation (CSEF) is committed to the recognition, promotion, and continuance of educational excellence and higher learning.
Donations to CSEF provide scholarships to Cache High School graduates based on grades of B or better in core courses while enrolled in the program. CSEF alsoa wards classroom grants to Cache Public School teachers. The CSEF Board of Directors allocate a specific amount each year from the foundation's account principal. Students can earn over $400 and teachers can receive grants for $500 each year.
Cache Public Schools and CSEF strive to maintain high standards in the educational processes.Your contribution t oCSEF directly assists academically motivated students pursuing highere ducation and teachers striving for academic enrichment in the classroom.